This Christmas has been so wonderful. As well as a delightful combination of busy and laid back. I'll only briefly apologize for the lateness of this post, which I meant to have written up within a couple of days of it happening. But I'm a college kid reveling in a break from course work and class attendance, so I got lazy and am just now getting to writing it up.
I had been looking forward to Christmas Eve almost as much as Christmas Day for several months. My best friend
Matt
was flying in from NYC for break and we have a tradition to go Christmas-Lights-Looking and have a present swap the night before Christmas. We'd been talking about it for awhile now. Living in Texas, we've spent some Christmas Eves bundled up in the car, cranking the AC so we can pretend it's actually really cold outside, but this time Mother Nature took care of the AC for us. The fact that it was raining a little didn't dampen our spirits at all.
We convened around six to swap our presents, which is always a blast.
Our presents, about to be swapped!
We had quite the haul this year. A few things we each were expecting, but several great surprises as well! And, of course, as is typical with our escapades, we documented the whole event on camera.
Matt tackles the task of unwrapping.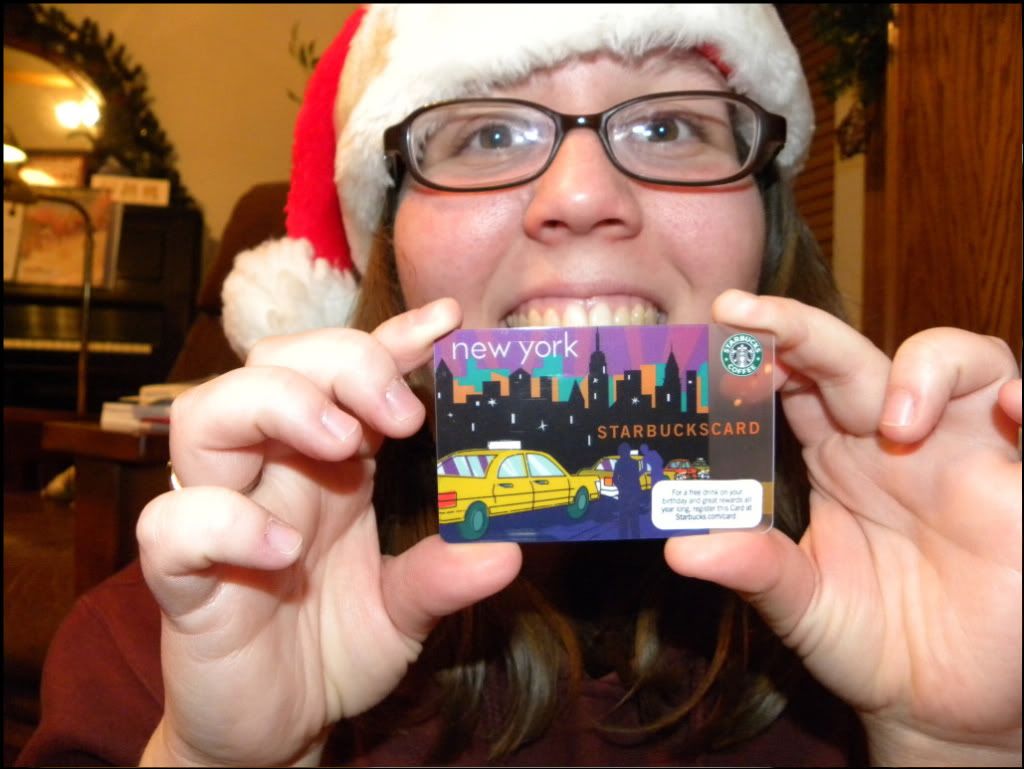 Official NY Starbucks card! Straight from The Big Apple!
SPONGEBOB. I love.
Our collective haul.
I'd like to note that the whipped cream and pie crusts are particularly exciting.
We've been talking for years about throwing pies in each other's faces.
This year, it will happen. Obviously.
Up next on the agenda—Christmas-Lights-Looking. We piled into my car and headed out. Our first order of business was looking for a place still open and selling hot chocolate. Unfortunately, Starbucks was already closed. So we drove to Sonic to ask if they had hot chocolate. If not, we had decided, we would be getting chocolate shakes and pretending. Ironically, when we were informed that they did indeed have hot chocolate, we were disappointed we wouldn't be getting shakes.
But it's Christmas. Well, Eve. But still. So we got both.
Can I just say, Sonic hot chocolate has got
nothing
on Starbucks hot chocolate. It was more like drinking a thin, liquified snicker-doodle. Not sure what made them think they could call it chocolate. Our shakes, however, were quite tasty!
Then we spent an hour or so driving around to look at Christmas lights. We subtly took pictures of our favorites. Most of the pictures are blurry since we hated to be obvious about it—I know I'd feel a little weird seeing someone taking a picture of my house, even if I did have pretty Christmas lights up. But our intentions were pure—no ulterior motive. Just a few blurry reminders of some of our favorite light displays.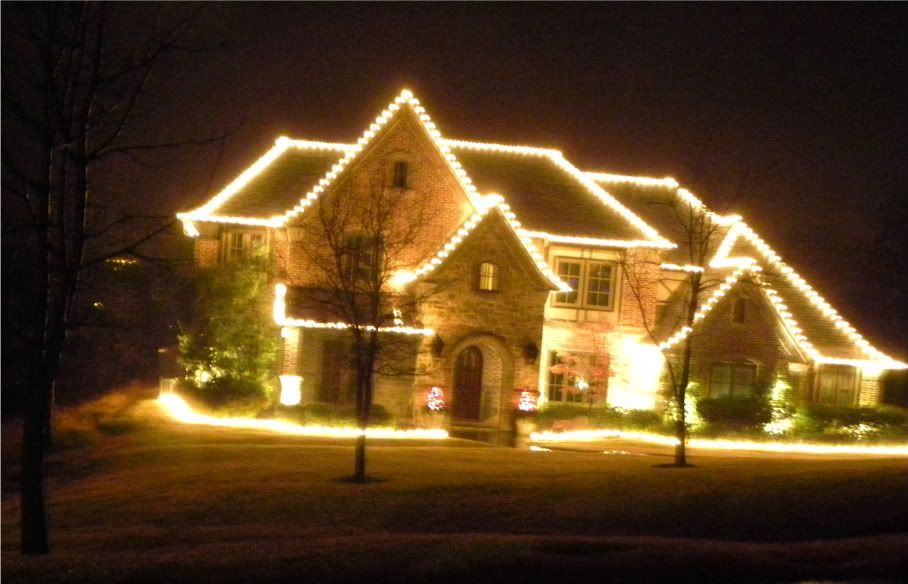 Then we headed home. I dropped him off at his house to spend time with his family and I went home to my own.
I know a lot of families open presents on Christmas Eve. Mine is not one of them. When I was a kid, I was allowed one present early, then on Christmas Day came the miserable wait between waking up at the crack of dawn because IT'S CHRISTMAS MORNING, GUYS! and the moment when my Mom, Dad, and Super Granny were up, finished with breakfast, and ready to gather in the living room by the tree. Looking back, I'm not sure how I survived. So many hours of anxiously staring at the presents in hopes that the time would pass magically and we could open the presents right away.
At least I had my stocking to tide me over. Candy, candy, candy. And usually a horse figurine and some Lip Smackers. I kind of miss using that stuff.
All in all, Christmas Eve was a complete success. And I went to sleep eager to greet Christmas morning.