Christmas at my house is always my favorite time of year. I love the way my Mom decorates our house. It's the epitome of warm and cozy, inviting and festive.
But on Christmas morning, there's something extra-special about it. It's a little warmer, a little more vibrant, a little more exciting. And it doesn't matter where we are. It's been this way at each house we've lived in. It's not about the place; it's about the people who inhabit it, and who make it what it is. Ever since I was a little girl, the room with the Christmas tree has been
the room
. When the Christmas tree isn't up, it becomes
the room that the Christmas tree will be in
. There's something about Christmas that's just particularly special to me.
And Christmas Day 2010 will definitely go down in the books as one of the top five best Christmas Days yet.
Tucker is ready to open presents.
It started out like any other Christmas does for us. The first thing I did upon waking was look for my Christmas stocking. Because that's where the candy is! I said good morning and Merry Christmas to Mom and Dad, got Tucker all excited at the prospect of opening his presents, and ogled the wrapped boxes, gift bags, bows, glitter, and tissue paper spilling out from under our tree.
We had a relaxed breakfast, all of us anticipating the soon-to-come gift unwrapping extravaganza. In my family, the actual unwrapping takes much longer than it would if not for the fact that each of us—myself, my Mom, and my Dad—have cameras. We're like the ultimate picture-taking family. While one of us opens a present, the other two snap away. If two of us start to open presents at the same time, one will inevitably slow down, so that the actual present-reveal isn't simultaneous, thus making it difficult to capture the moment on camera.
There really isn't a downside to this unique Christmas Day tradition; at least not that I can see. It in and of itself makes the whole present-unwrapping last longer, and we never find ourselves lacking in the photo memories department.
I'd guess between the three of us, we have at least three hundred pictures*. Overkill? Perhaps. But better too many than too few. You might think I'm exaggerating, but...I'm not.
*Upon uploading and sorting through pictures for this post, I have learned that we have 354 photos from this Christmas.
I was the most excited for Mom to open the silver scarves I got her. It had been my mission—a few days before Christmas, I was frantically searching. Mom's only stipulation for the scarf she wanted was that it be silver. I ended up finding two. I bought them both. One is a more understated silver scarf. The other, a fun sequined scarf. Not only was I excited for her to open her present and find that I had managed to come up with a silver scarf, but I was also excited for her to find out she got not one, but two of them. (Fortunately, she liked them both!)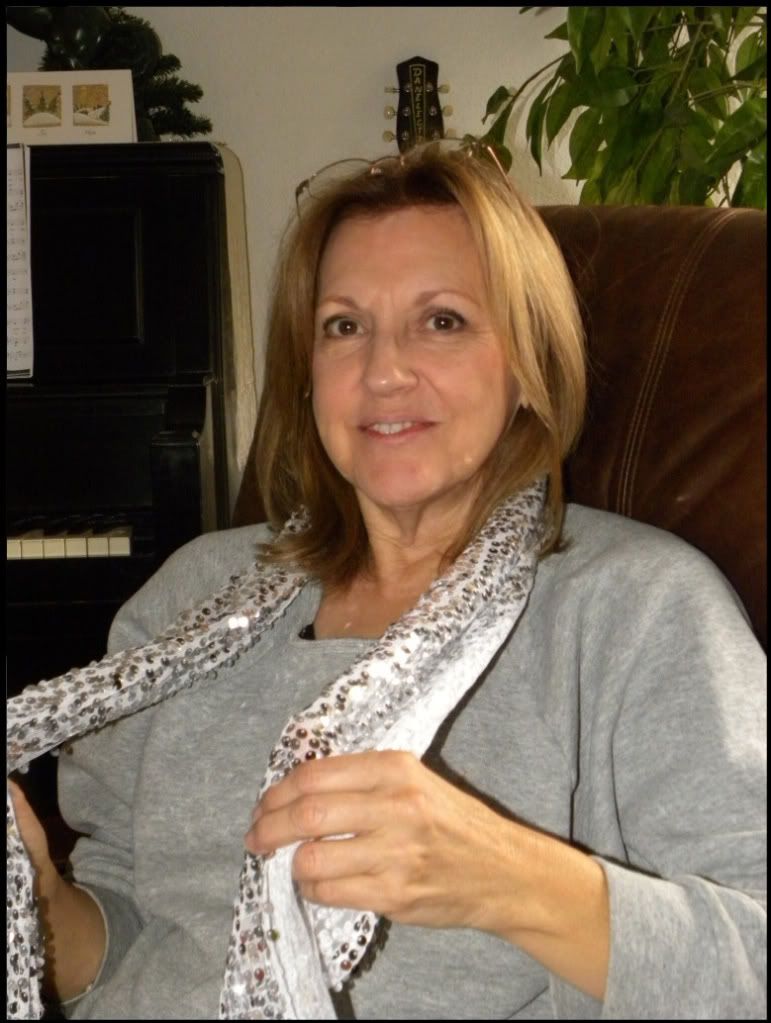 Scarf #2.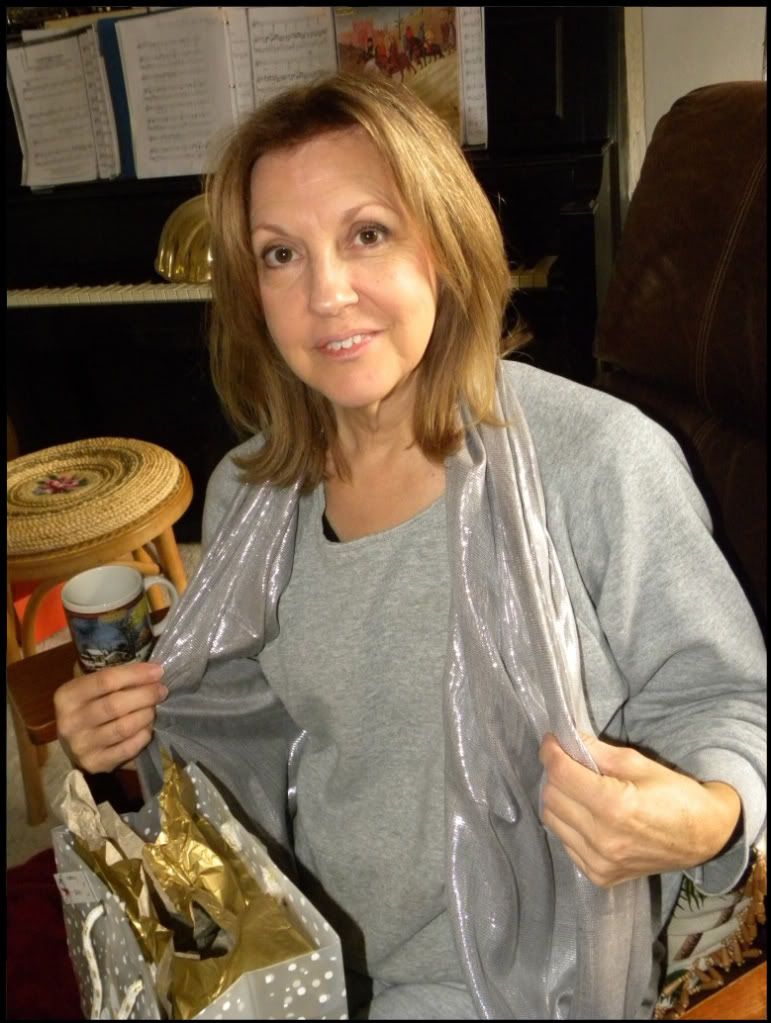 Scarf #1.
It was a great Christmas for us. We all got stuff we wanted, with a great mix of stuff we weren't expecting. None of it was unwanted or disliked.
All of us were having a great time. All three of us are huge fans of goofing off. Christmas is no exception.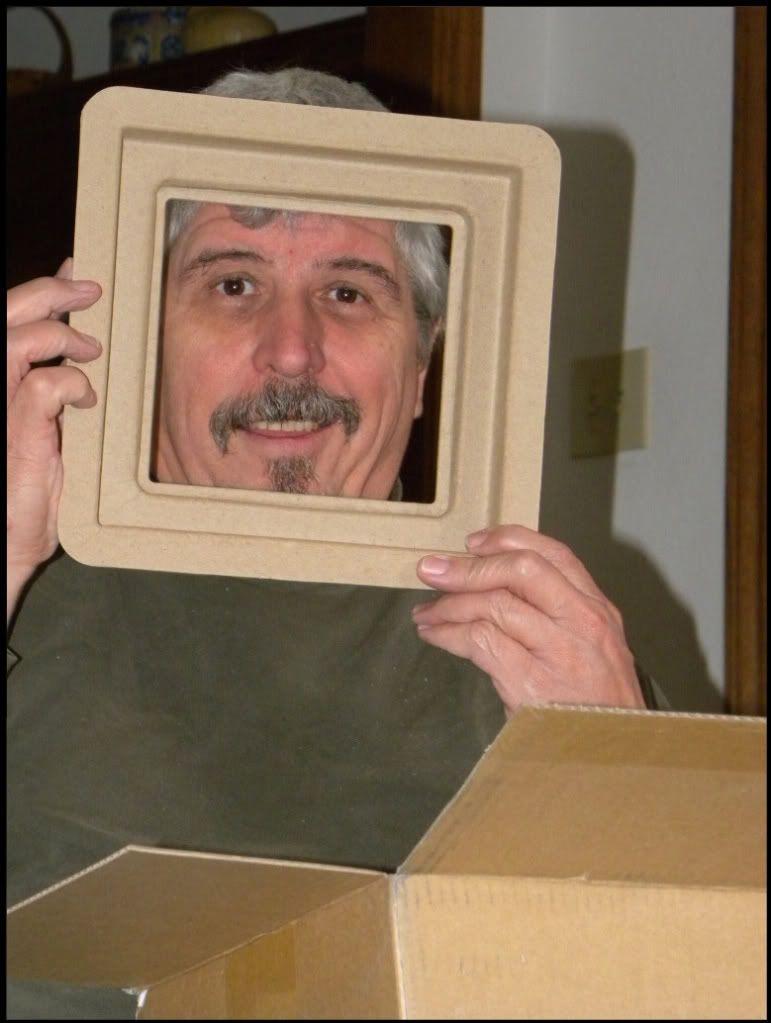 When the package is just as fun as the present.
I was doubly excited when I got a brand new bottle of my favorite perfume, J'adore. I had run out a while ago, but still had plenty of some other scents, so I didn't think I could justify spending the money for a new bottle. But I'm so happy I got more! I absolutely adore J'adore. No pun intended.
I also got an adorable shirt from my Mom! A shirt boasting the Greek letters of the International English Honor Society I was inducted into last semester. I really love it. It is too freakin' cute!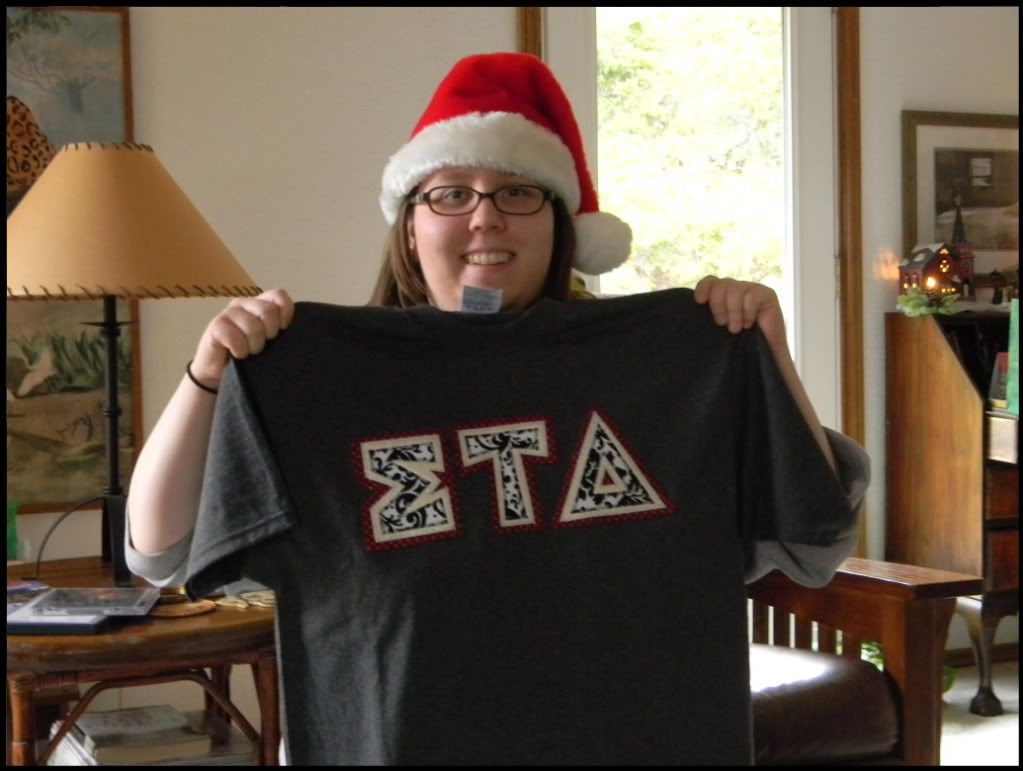 Sigma Tau Delta, represent!
But more than the perfume, more than the pile of video games, the candy, the clothes, the highlight of my day—my season, in fact—was the letter.
The letter from Santa.
How many of you guys can say you got one of those?
After we had finished opening presents, and were re-examining our loot, we heard the doorbell ring. Confused as to who would possibly be dropping by unannounced on Christmas, I went to the door. It was there that I found the letter.
Apparently, Mr. Clause and Tucker became acquainted when he was entering the house through the chimney to deliver presents. Tucker, the lucky pup that he is, had a delightful conversation with Santa
and
he got to meet Rudolph. In all the excitement, as he was leaving, Santa realized he'd forgotten my present in his sleigh. Already running behind schedule, Tucker quickly informed him that it would be alright for Santa to leave my present in my car, and that the faithful pup would let me know to look for it there.
Sure enough, when I went out to my car, I found my last two presents!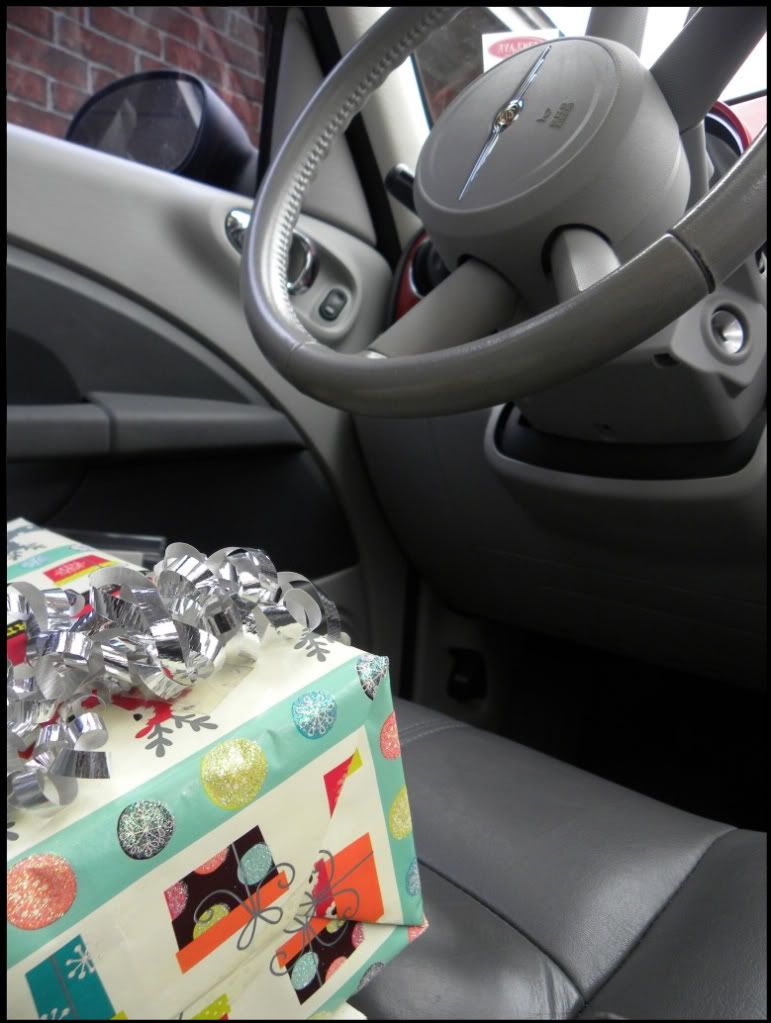 What I found in them blew me away. Santa really outdid himself this year.
It was a brand new iPad, and a case to boot!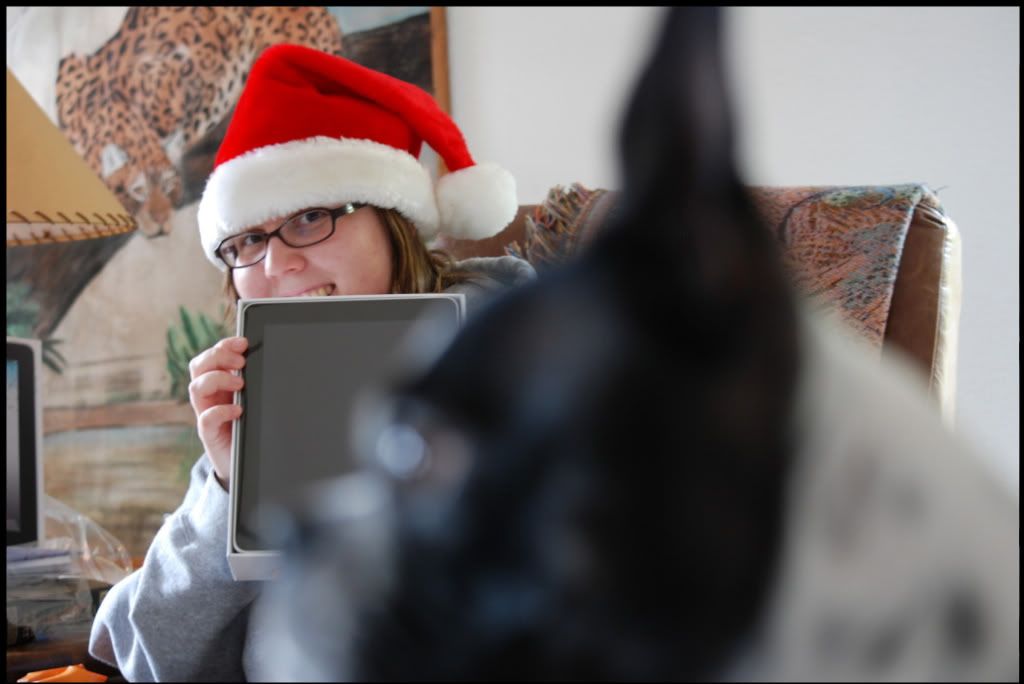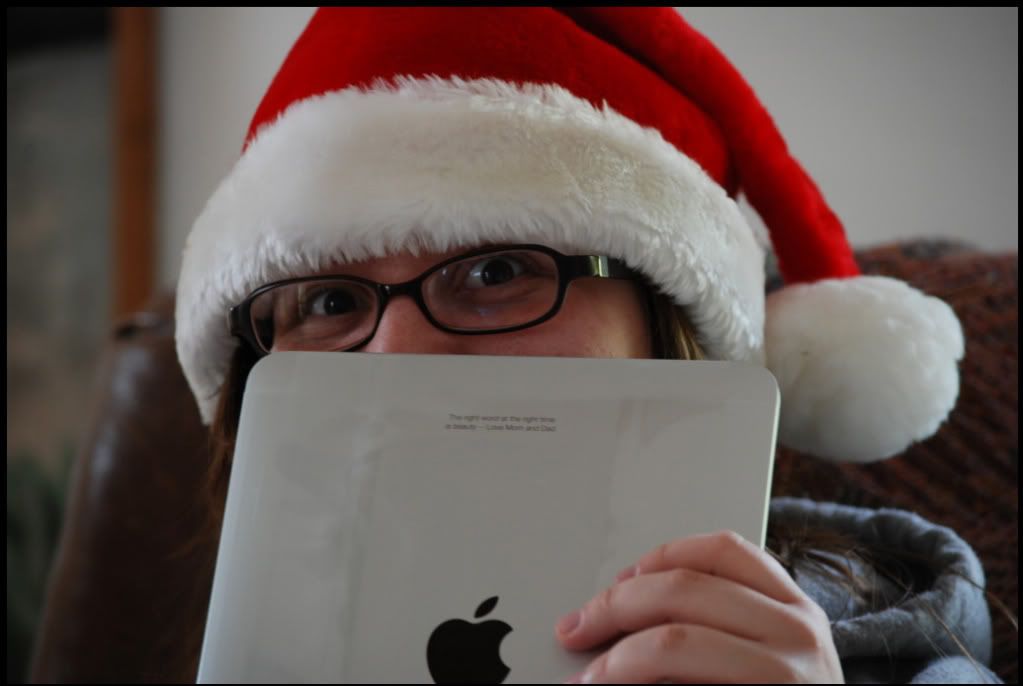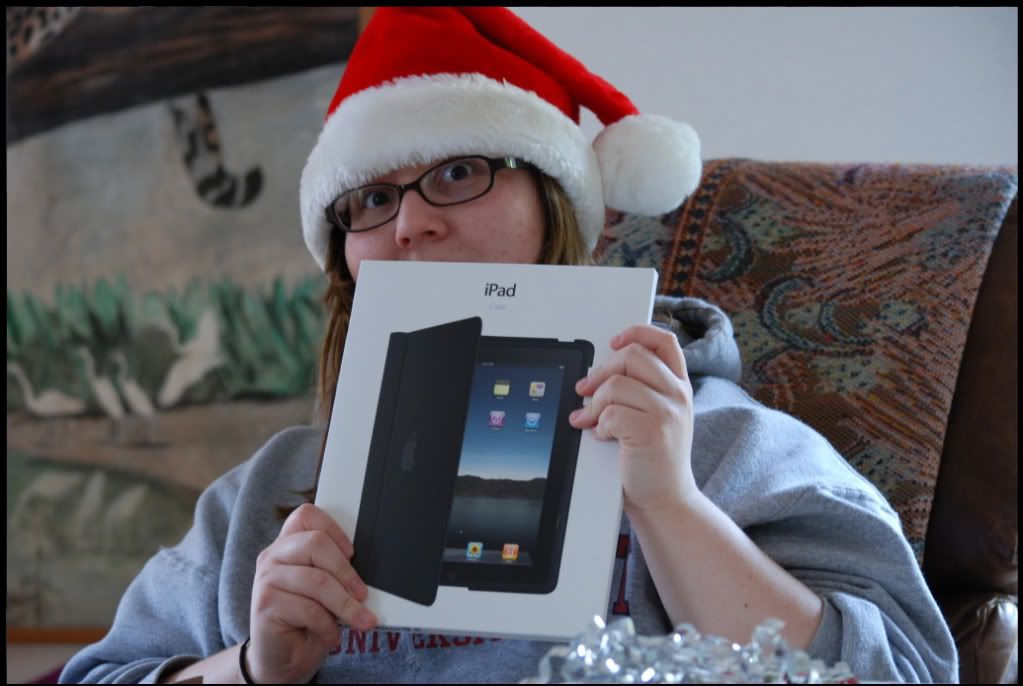 I was floored.
I had mentioned wanting one, but in no way shape or form expected to get one. Especially not so soon.
But my favorite part is the inscription on the back.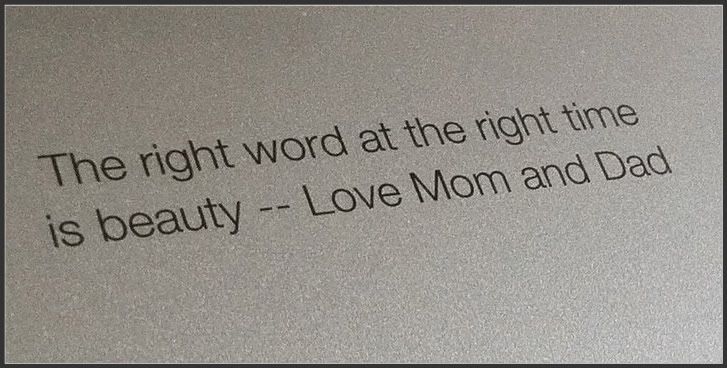 I may as well go ahead and admit that I totally teared up a little when I read it. My parents have always been so wonderful and so supportive of my ambitions to write, and I never cease to appreciate the fact that no matter what, I know they back me up one hundred percent.
As excited as I was about the iPad—and let me tell you, it's no exaggeration to say I was doing a happy dance and jumping for joy—I think the most heart-warming and meaningful part of it is the inscription and the meaning behind it.
I'm undeniably thrilled with all of the presents I got this year, but most of all I am thankful—so thankful—for my parents, and how much they love me, and the fact that I was able to spend this Christmas with them again.
After all, Christmas isn't really about presents anyway.
Though it's several days late—more than that, really—the sentiment is still close to my heart; I hope all of you had a wonderful and very merry Christmas.