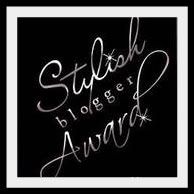 It has been brought to my attention that I am a stylish blogger. I was flattered and honored to receive the Stylish Blogger Award from not one but two equally fabulous bloggers.
Genuine thanks to both
noobventures
of
pen, paper and a mouse
as well as
smilelikewoe
of
Smile Like Woe
.
As I understand it, there are four little things I must do along with accepting this award. They are as follows:
Thank and link back to the person who awarded you this award.
Share 7 things about yourself.
Award 15 or so recently discovered great bloggers.
Contact these bloggers and tell them about the award.
I can already check #1 off of the list. On to the second.
7 Things About Myself
Despite serious anxiety about visiting the dentist, I'm so paranoid about my teeth that I visit the dentist at least twice a year typically.
I have never eaten a PB&J sandwich. Ever.
I'm so emotional that a mere thirty second television ad can make me cry. I mean, if it's sad, of course. Those SPCA commercials get me every time.
I think I could probably live off of pizza forever. Pizza and chocolate. Pizza and chocolate and Starbucks. And bread.
I've never owned any other kind of computer besides a Mac. And I never want to.
When I was a kid, I desperately wanted my parents to buy me a boa constrictor. But they weren't having it. So I wrote and illustrated a small novella (okay, several sheets of notebook paper stapled together and colored with marker) explaining precisely why they should indeed get me one.
I never did get a boa constrictor.
I'm passing the Stylish Blogger Award on to these bloggers, listed in no particular order, of course! Check them out!
Fabulous 35mm
— Audree is the queen of movie reviews and red carpet features. But that's not all. She also shares her opinion on books, music, you name it.
Ariel Writes
—
Ariel
is a delightful young woman and aspiring author of young adult fiction. She blogs about her experiences with writing, among other things.
Mary Malcolm's Awesomely Ordinary Blog
— Though I am a contributor on this blog,
Mary
is the real brains behind Awesomely Ordinary. Mary is a writer, and her blog is indeed awesomely ordinary.
Mus(eum)ings
— I love the name of
Samantha
's blog. The posts are good, too! She's an intern and a museum. How cool is that? It's like a sneak peek behind the scenes.
Starbucks Melody
—
Melody
is a true Starbucks enthusiast and brand ambassador. Her blog is chock full of coffee and coffee related posts. She has tons of great pictures, on top of it all, and is all around a friendly and fun person. Her blog reflects that a hundred times over.
Miss Woodhouse's Musings
—
Miss Woodhouse
is an absolute doll! She's a Starbucks enthusiast and fellow English major. Not to mention an avid reader.
A Dog In My Car
— As a dog lover, I particularly appreciate the purpose of this blog.
Christine
started this blog to help support dog rescue. She shares posts about dogs who need homes or need to be fostered, or both, as well as other related information. It's a great blog.
June's Corner
—
June
is a fabulous woman and her blog is a lot of fun. A fellow book lover, she'd love for you to come hang out in her corner for a chat.
Maggie The Artist
—
Maggie
's blog is full of fun and creative tips and photos. She also blogs about art, being an artist, and life in general. Her blog is a ton of fun.
The Misadventures of a TaschaBear
— This delightful blog is maintained by the mythical Reading Bear. It's loaded with book reviews and recommendations. Useful and fun to boot!
All of the above bloggers are definitely fabulous, and totally deserving of the Stylish Blogger Award. I hope you give them all a visit!