Mug and soup bowl.
So, I love garage sales. For so many reasons. Cheap stuff, random finds, I just enjoy the whole "One man's trash is another man's treasure" mentality.
And this one time at this one garage sale, I found these fabulous dishes! Actually, at first I only found the mug. Very retro, totally awesome. I've always been a sucker for collecting random mugs, but as I continued browsing, I stumbled upon matching soup bowls! And there were four of them! Delighted, I hunted for the rest of the set, assuming that since this woman had a mug and some soup bowls, surely there would be matching plates, and at least a couple more mugs.
Alas, this was not the case. She even helped me look, but she couldn't remember where she'd gotten the dishes from. And what's worse, there is NO maker's mark, seal, stamp, brand name, nothing. Not on any of the five dishes (one mug, four bowls) I ended up with.
This was probably at least three years ago, if not four. I have looked in antique shops, more garage sales, online, everywhere. I can't for the life of me find more of these stinkin' dishes, but I LOVE THEM.
So here's where I implore you... Have any of you seen these dishes before? If so, do you have any idea who made them? Where I could get some? What other dishes are in the set? Because the only two conclusions I can reach about these guys are that 1) They're crap. They're cheap, and the rest of the remaining dishes all throughout the world have been broken or thrown away. Or 2) They're collectibles and the people who do have them are holding on to them for dear life.
Help?
Soup and crackers!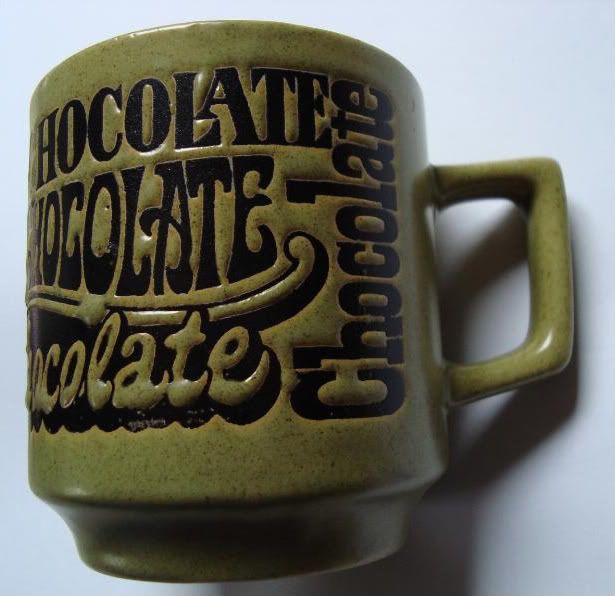 Hot chocolate time!
See?? Nothing! ARG!