Sometimes you just need to get away.
And sometimes you just want to. A think a little combination of the two is what I had been experiencing for quite some time now.
Solution?
Plan a getaway!
This is precisely what myself and my friend Megan did this past weekend. We planned it about a month in advance. I started saving up. And, of course, getting excited. (I mean,
really
excited.)
Our original plan had been to drive to Austin and just hang out. Grab a bite, see the sights, do some shopping. But then my life took a few turns, I started looking into graduate school, researching good programs. I turned up a good creative writing program at Texas State University in San Marcos.
San Marcos isn't a whole heck of a lot farther away than Austin and I was itching to check out the campus (I'd initially looked into Texas State when I was trying to decide where to transfer to after getting my Associate's) so I suggested that we add San Marcos to our road trip itinerary.
Lucky for me, Megan was all for it! Then the plan became a drive down to San Marcos, a look around the school, then driving back up and stopping through Austin for shopping and general fun on our way back to College Station.
Then
I realized something. San Marcos has an outlet mall. A really
great
outlet mall. We're talkin' Pottery Barn, Neiman Marcus, Juicy Couture, Gucci, Fendi, Coach, Puma, Lacoste, Lucky, Ed Hardy, Calvin Klein, BCBGirls, Guess... Basically, I flipped out.
Since Megan was also up for shopping, our plan changed again. Austin got nixed completely.
Don't worry, Austin. We'll come back to you soon.
Because
you
have a California Pizza Kitchen...It's only a matter of time.
New plan? Get an early start, drive down to San Marcos and check out the campus, then head over to the outlets to shop our little hearts out.
Saturday could not come fast enough.
When it did, I was up at six and ready to go at seven forty-five. I picked up Megan at eight, and after a pit stop to fill up the gas tank, we dropped by Starbucks for a morning pick-me-up. Then we were on the road.
The drive was really pleasant. It didn't seem too long, and it only rained on us a bit. By the time we made it to San Marcos, the sun was out and there was a great chill in the air. The perfect day.
We actually spent much more time checking out the campus than I thought we would. Megan was just as curious as I was, and spending two or so hours there gave me plenty of time to get a great first impression of the school. And take a lot of pictures. I mean, a lot.
And here they are! Apologies in advance; there's a ton of 'em.
This is the first building we saw. It's lovely!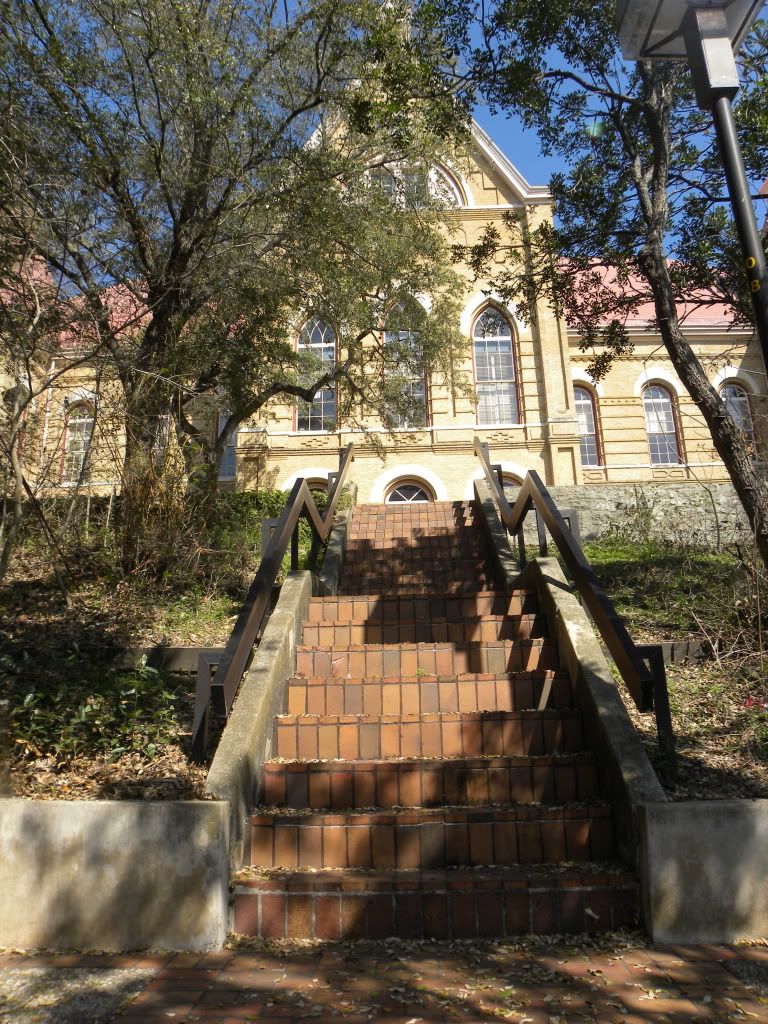 Old Main again. We climbed a lot of steps on this campus!
I believe this is the back side of Old Main.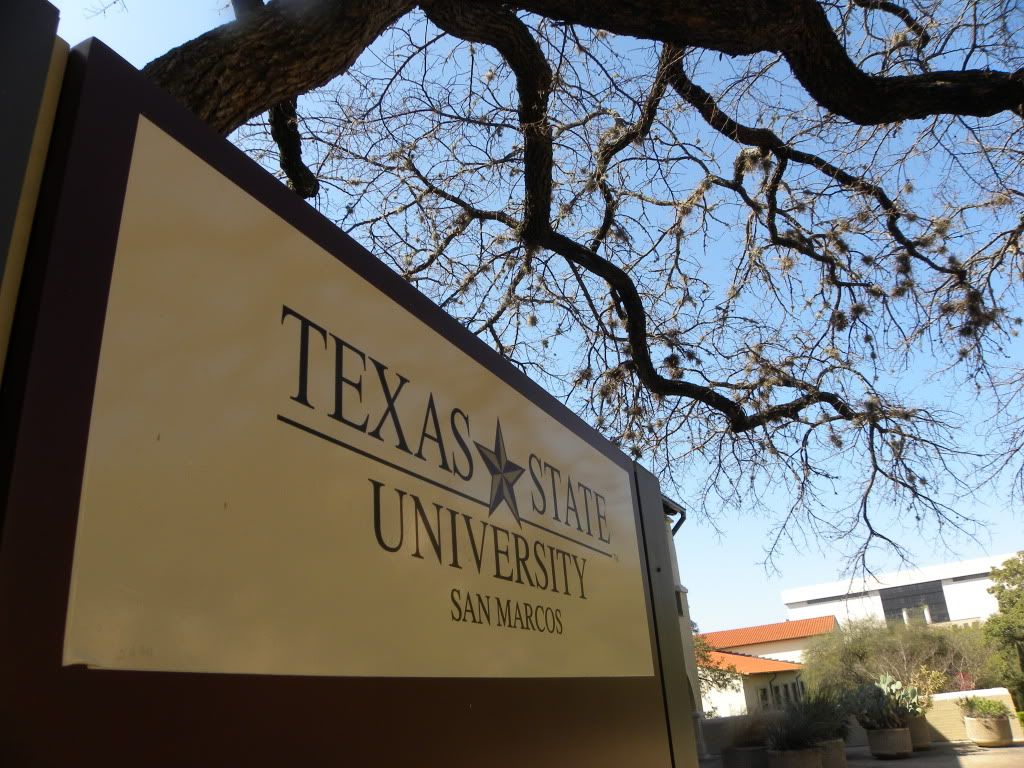 Welcome to Texas State University!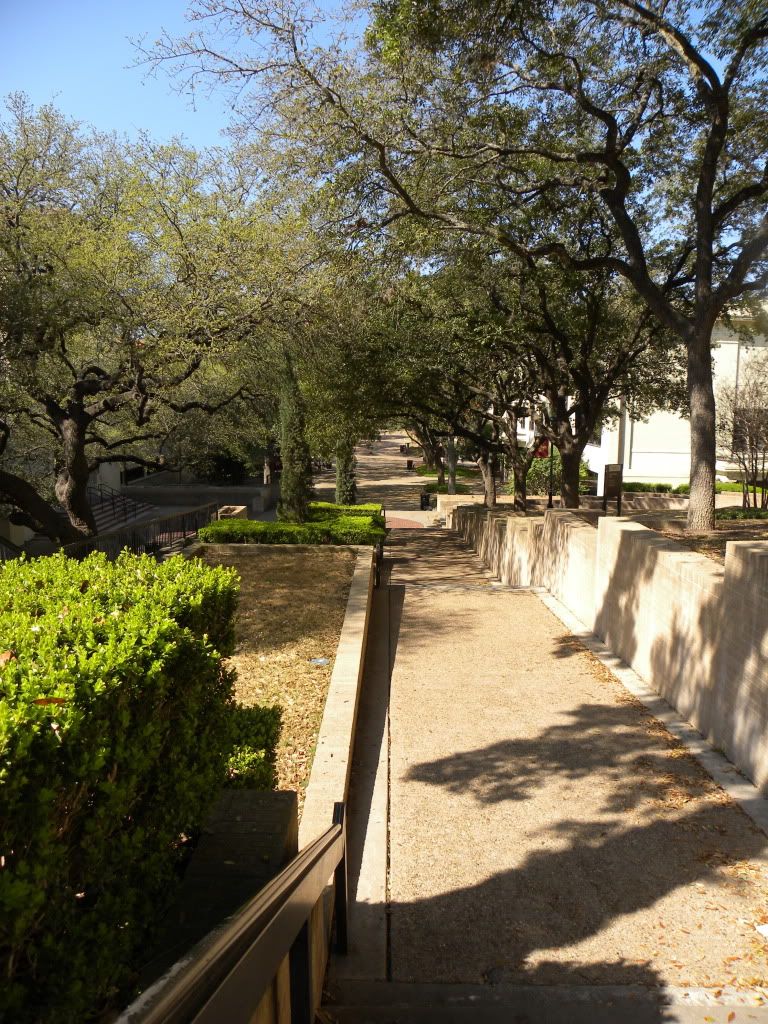 I don't know if it's easy to tell, but it just keeps going down!
Lots of steps and lots of trees!
This is the library, which we did go inside. It's lovely!
And on the 7th floor, they have some exhibits. Very fun!
Arial view of campus from the library!
The Bobcat. Texas State's mascot.
The Stallions. Just beautiful!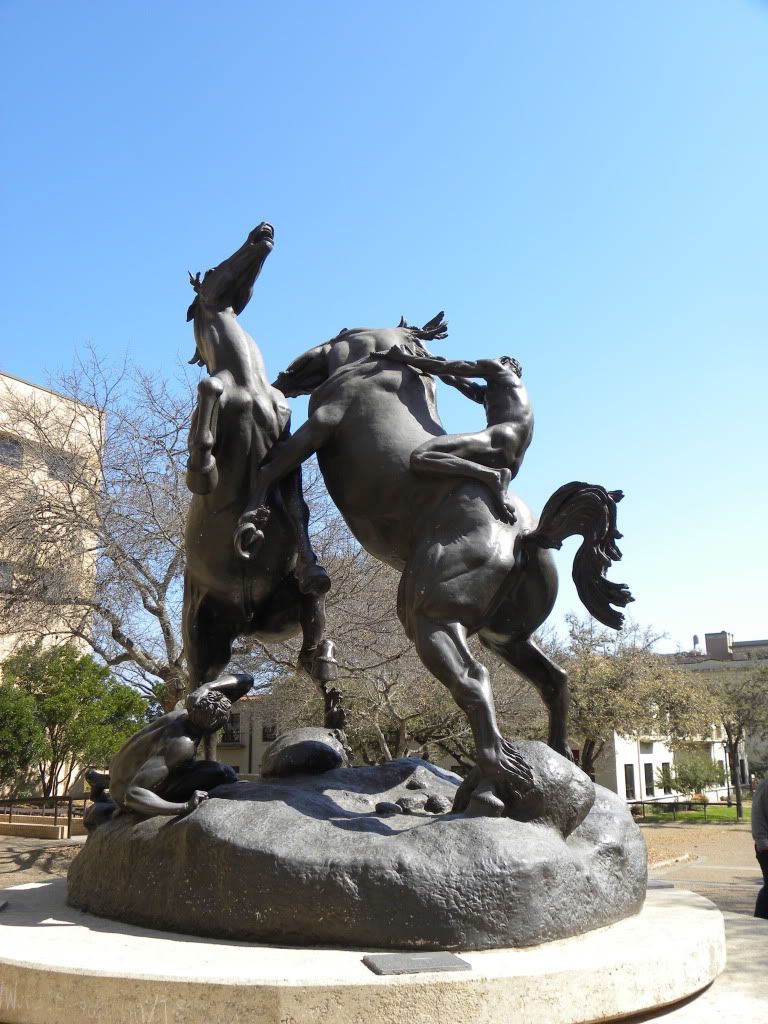 One more angle on The Stallions, because I love them!
LBJ.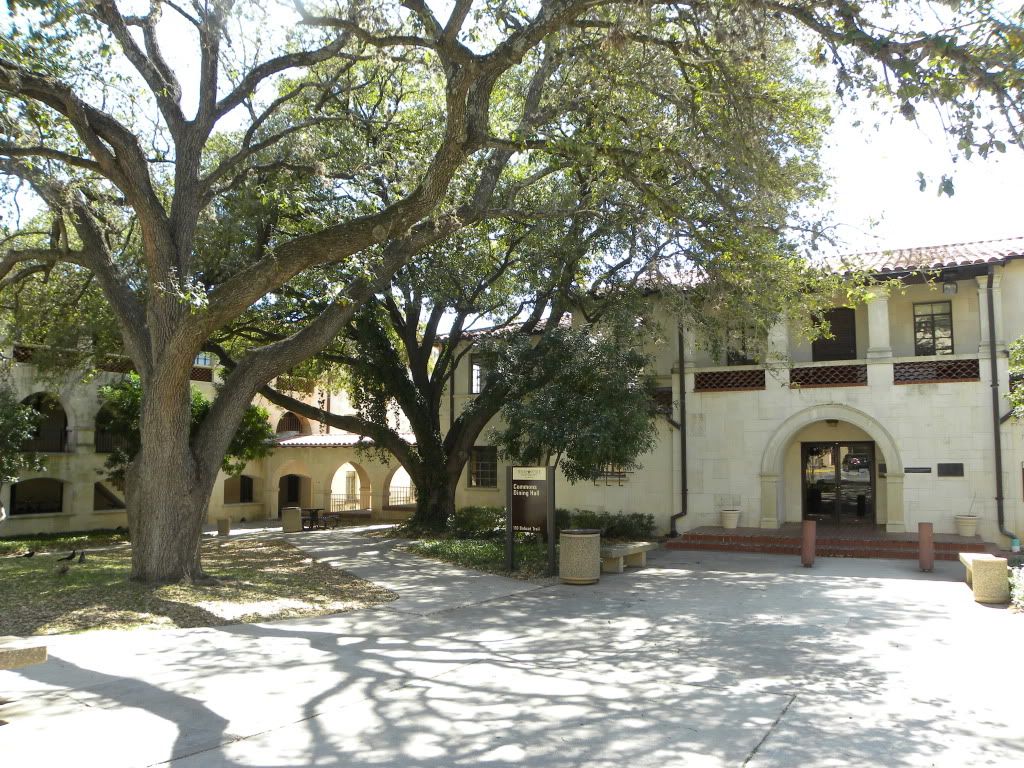 One of my favorite buildings. Love the architecture style!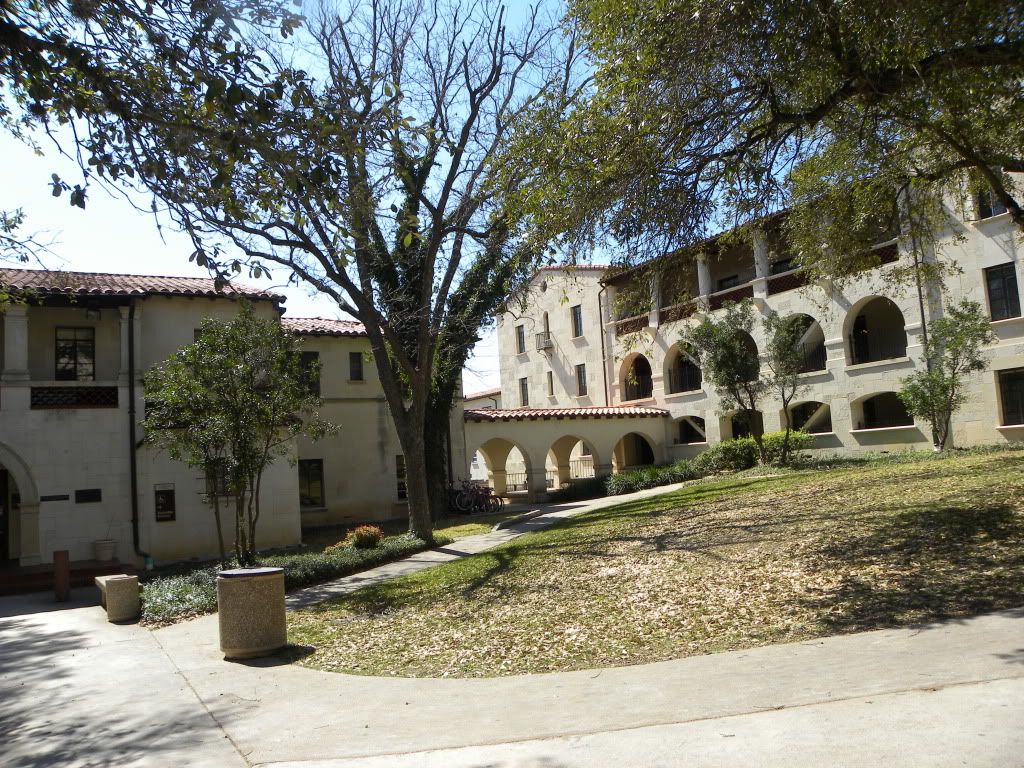 View #2 of the building I love!
My favorite huge tree!
I. Love. Trees.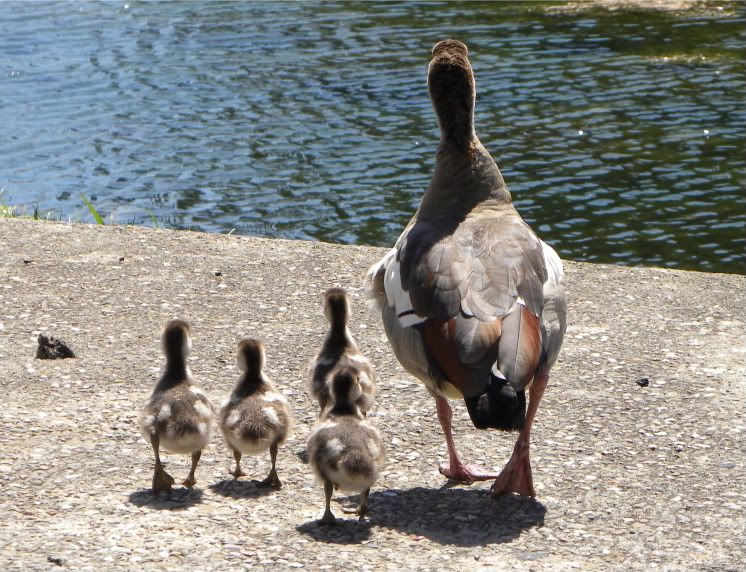 Um, HOW cute are these little guys?
I seriously love this campus.
Look at this little guy! The only one who didn't flop into the water when I approached.
THIS is their theater! For plays and such! In the middle of the pond! Awesome.
So, again, obviously I went a little camera happy. And honestly, that's not even half the pictures. But I've already flooded you guys with plenty.
All in all, I really loved this campus. It's gorgeous, lots of trees, lots of shade. And very hilly! (My TOMS held up amazingly well, and we seriously did a ton of walking!)
We went on a Saturday, which is why there aren't any people in my pictures. It was really nice to be able to get a feel for the campus without being overrun. But I'm already planning on dragging my parents down to look again, and get more information, so I look forward to seeing how the place feels during the week when classes are going on.
After we finished checking out the campus, we were positively famished. We'd passed this adorable Saltgrass Steakhouse on the way in, so we decided to run back out to that. It's such a cool building! Apparently it used to be an old mill. And the view is great—you can see the river! I didn't get a great picture inside, but I got one of the outside.
When we left here, we were stuffed. Delicious!
Historical marker, hoorah!
We really enjoyed the break from walking, and the food was fantastic. We really took our time and enjoyed ourselves.
And after eating, we were more than ready to hit up the shops!
I only got a couple of pictures at the outlet mall. I'd intended to get more, but I got a little carried away with the whole shopping thing. But we walked all around the shopping center—it's outdoors, and the weather was lovely. It was absolutely a blast.
We went in to a ton of the stores, but mostly window shopped. It was just really fun to see what all they had. Though I won't lie, I found several things I want. I may be making a trip back soon!
After we finished shopping, we stopped by the Starbucks in the outlet mall to grab something to drink before the drive back home. I didn't get too many pictures because we were in a hurry to get back—we both had pups waiting at home for us!
Starbucks. A constant in my life. Delicious all over the world.
The drive back felt longer than the drive there. Probably because there's way more excitement involved in actually driving toward the destination as opposed to away from it. Still, it wasn't bad. And it wasn't too long.
And I slept like a baby.
It was a fantastic trip. A great way to let go of some stress, take some time to just enjoy ourselves. The perfect day-trip getaway. I can't wait to start planning the next one! Austin? Houston? San Antonio? Who knows!