I don't know about you, but 2011 is shaping up to be an amazing year for me. A few plans have changed. There have been a few bumps in the road. But so far, I am having a fantastic year. I've got a lot of really exciting things happening for me in the coming months. So exciting that I just can't resist sharing.
New York City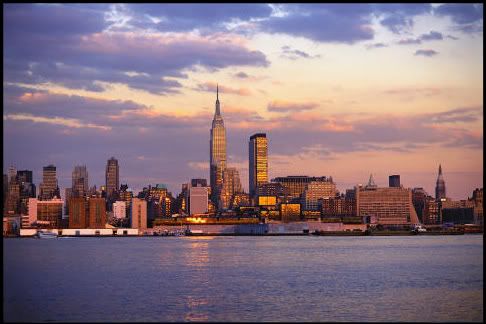 First up, Spring Break. Destination? New York City!
I fly out on March 11. I'm there for seven whole days. I leave a week later, on the 18th. I'm so excited I can't even explain. Not only will this be my first trip to The Big Apple, but I'm also going up to visit my friend,
Matt
. It is going to be awesome, epic, fantastic, amazing, and every other word for "best ever" you can come up with.
Our itinerary is pretty extensive. But more than being interested in the landmarks (though there are a few I simply MUST see), I'm the most excited about hanging out in the big city with my friend. A couple of other mutual friends will be there at the same time, and we have an evening of karaoke planned with them.
Some things on the agenda are Ground Zero, The Met, Rockefeller Center, the New York Public Library, the Statue of Liberty, Times Square, the Empire State Building, Wall Street, SoHo, and Tiffany & Co. Be prepared for an over abundance of pictures when I get back.
I'm also excited about this trip because I'll get to play the part of an bona fide foodie when I go. We've already got reservations to
Mesa Grill
, where I plan to try the Spiced Rubbed Bison Filet, with corn, ancho chile sauces, and crispy red onion. My mouth is watering right this second. I'm also going to get to try authentic New York style pizza. Which I already know I'll love. Because let's face it, pizza is my favorite food. I'll also have another go at sushi, and indulge in some fabulous desserts.
It's going to be one of those experiences I'll never forget. I absolutely cannot wait.
I know, I know. I have one of these every year. And I'm turning 24—possibly one of the most anticlimactic ages I've turned so far. But this year is the year I finally have to renew my driver's license. So not only will I get a whole new picture (Exciting!), but I'll also finally have the big-kid license. Yes folks, though I'm a couple of years past twenty-one, I still have the "under eighteen" driver's license.
I'm taking that final step, that last rite of passage from vertical to horizontal.
It will be very strange.
So, odd as it sounds, I'm marking this years' birthday as one of my Big Events of 2011.
Next up, summer vacation! What better time to take a road trip than over the summer? Again I'll be teaming up with
Matt
, and this time we're hitting the road. Destination? New Orleans!
We're hoping to drop by Shreveport as well.
I'm so excited to actually see New Orleans. I've gotten really intrigued by the South lately, particularly the deep South. And places like New Orleans. And a piece I'm working on, one I'm hoping to turn into a novel, is set in the South. It's a horror/thriller (I hope!) set on a plantation. I've never been to a plantation. That is going to change this summer. One of our stops is going to be at a plantation. We aren't 100% sure which one, but I'm really hoping to visit Oak Alley Plantation.
(Google it. It's gorgeous.)
And then, of course, Bourbon Street. And I am already excited just thinking about all of the amazing pictures I'm going to take.
Both New York and Louisiana are going to provide some excellent opportunities to not only get my creative writing juices flowing, but also to expand my horizons as far as photography goes. I'm so thrilled at the chance to photograph things that aren't exactly in my neck of the woods, if you know what I mean.
This one belongs to my friend. MINE will say '11. :)
And then, in...probably November—I can't say for sure yet—I'll
finally
be getting my Aggie ring! I don't know about you guys; I'm not sure if college rings were a huge deal for you or not, but it's massive to me. There are a couple of reasons for this.
First, I've been working on my undergraduate work for about six years. I started off slow, unsure of what I wanted to do, so I'm not angry that it's taken so much time. But to me, my Aggie ring means more than just credit hours and attendance. It means I finally found a school I'm proud to graduate from. I'm proud to be a student here and I'll be proud when I'm an Alumni, and I'll be proud every day to wear my Aggie ring so the whole world will know—I'm an Aggie. I did it. I graduated.
But also, the Aggie ring is a
huge
deal down here in Aggieland. We have Ring Day, and ring dunks, and countless other traditions that go along with getting the coveted Aggie ring. Needless to say, I can't wait.
Next, in December, I'll be graduating! I had originally planned to graduate in May, but there were a few kinks in that plan. But honestly, with the way this year is panning out, I'm fine with graduating in December. It gives me more time to visit the career center, plan for what I want to do after I graduate, research graduate schools (which is a total headache, by the way).
I think it's so convenient the way all of my big events are spread out over the course of the year. I've got something to look forward to the entire time. No one big event, no one big thing that comes and goes and leaves me wanting more. At the end of everything is the prospect of something more; something exciting and new on the horizon.
2011 is
my
year, and I plan to live it UP.
I can't wait to bring you guys along for the ride.