My favorite thing to order at Starbucks is a Frappuccino.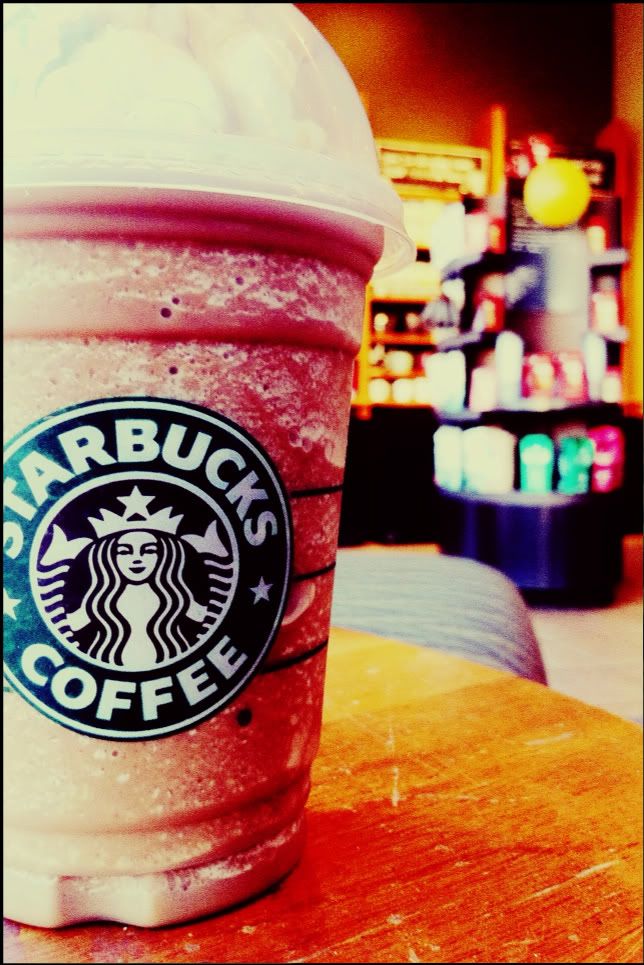 I first discovered these with my best friend,
Matt
, somewhere around the 8th grade. My first Frappuccino was a Venti Caramel Frappuccino. I ate the whipped cream off of the top. Then I was done.
Turns out the caramel Frappuccino is a tad too sweet for this coffee lover.
Still, my first introduction to the Frappuccino certainly was not my last. Over the years, I've acquired fast favorites. My first regular order was the tried and true Mocha Frappuccino. I then progressed to the Java Chip Frappuccino. After that, Peppermint Java Chip. Now I live on Caramel Mocha. The mocha does an excellent job of taming the sweetness of the caramel, and the mix of the two flavors is, quite frankly, divine.
So, as you can tell, I'm no stranger to Frappuccinos, be it texture, flavor, consistency, etc.
Recently, Starbucks changed how they make the Frappuccino. Instead of a vague "base" specific to the trademark blended drink, they're now "However-You-Want-It" Frappuccinos. There are defnitely a lot of positives when it comes to the recipe change. For instance, now you can choose which kind of milk you want— 2%, soy, whole, or what have you. Also, there is more room for customization. And the consistency is, in my humble opinion, much better than that of the previous Frappuccino, which tended toward allowing the flavor to be sucked out in such a way that in the end, you were left with a sort of slushy flavorless icy substance in the bottom of your cup. (Which I always drank, anyway.) Now, if anything starts to settle, a quick stir with the trademark green straw rights those wrongs immediatly.
I'm a big fan.
However, with more room for customization comes more room for inconsistency.
For example there are two Starbucks that I frequent here in College Station. I love both. And the baristas at both are fantastic—friendly, welcoming, conversational. No complaints. But when the new "However-You-Want-It" recipe was first introduced, both stores made Frappuccinos that tasted completely different from one another. The one closest to me—which had been the one I visited most frequently—started turning out Frappuccinos that tasted way too much like milkshakes. Suddenly, I could hardly taste the mocha. I could only taste the milk. And while the consistency of the drink was excellent, the overall experience was anything but. The flavors were all wrong. Consistently all wrong. As a long-time Frappuccino fan, I was concerned. I thought, "That's it. I've had my last delicious Frapp."
I even remember calling my Mom and filling her in on my woes. I was, with a heavy heart, grieving the loss of my long time favorite beverage.
No two Frappuccinos taste alike!
Then I made a trip to the Starbucks on the other side of town. With trepidation, I ordered my usual—a Caramel Mocha Frappuccino.
Lo and behold, it was excellent!
I was thrilled. Unlike the unappealing milkshakyness of the other Frappuccino I'd had, this one was perfect. It had a rich mocha taste and a smooth, creamy texture. The milk was much more subtle, but still pleasant, and best of all, very fresh. My faith in humanity—or at least in Starbucks—was restored.
Which got me thinking. Why the inconsistency?
This has been a problem I've experienced for my entire Frappuccino-drinking life. An extra pump of mocha can be totally different from place to place. Even the amount of time the blend the drink changes the experience. There's nothing more frustrating than having a particularly delicious Frappuccino one day, then returning the next expecting the same level of yum, and being utterly disappointed. But you can't complain that the barista made it
wrong.
Because they didn't. They just made it. And it turned out different.
I'll always love you, Frappuccino.
Even if you do let me down sometimes.
This is a problem, Starbucks! I consistently enjoy the atmosphere. The baristas are consistently friendly. But the drinks are consistently...inconsistent.
I'm not sure what could be done to solve this problem. And I AM sure that it's not going to keep me from my beloved Frappuccinos. But I do feel it's important, as a customer, to be allowed to expect some sort of consistency in flavor when they order the same coffee. And also, I'm just curious as to whether or not I'm the only person who's encountered this as an issue.
Either way, each trip to Starbucks is a toss-up on whether or not my drink will live up to the one before it. Or, if the one before it was wonderful, if the next will surpass it. It's like I never know what to expect except a drink that won't taste the same as it did the last time I ordered it. I love Frappuccinos, but I don't love those odds.