I woke up at 6:30 this morning. It was horrible.
Even more so because I absolutely had to get up. Being late to a final is not exactly the best way to conclude a semester's worth of class time, or class work.
Also, I re-learned that hitting the snooze for a meager fifteen minutes actually does put me running late.
I get to do it all over again tomorrow, so... Note to Self—Don't Snooze!
The good news is, I am officially done with my Marriage Institution class. And I made a 100 on that
research paper
I've been
working on for weeks
. That was a nice surprise—it's always encouraging when the few times I do manage to keep from procrastinating pay off.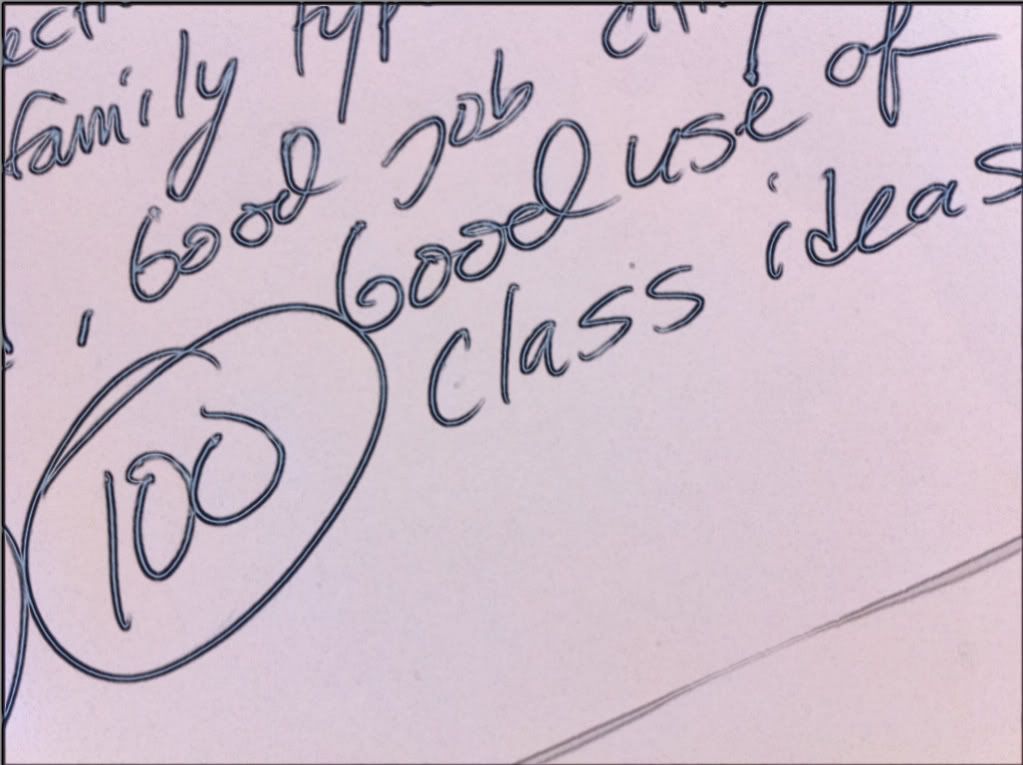 I wish she'd done the whole 'smiley face under the two zeros' thing.
But it still makes me happy.
I had the best intentions of coming home after my final and cracking the books for my two finals tomorrow. I did...not so great. I started studying for my Campaigns and Elections final first—because it's at 8 tomorrow morning. And because, between that and Shakespeare, I'd be much more comfortable having to wing the Shakespeare final than the Political Science one. I mean, yikes.
But I was wiped out.
The power nap, while absolutely necessary, also admittedly put a damper in my intended study momentum.
But you know what? I think it's a fair trade. Studying when I can hardly keep my eyes open isn't that productive anyway, and at least this way I think my chances of writing good, solid essays are much better because I'll actually be rested going into it.
After those two finals, I only have one more to take on Wednesday morning.
Until then, I will either be studying, trying to make myself study, or stressing out because I'm not studying and I should be.
Guess which one I'm doing now?
Then, the best part of my week—Going. Home.
Can. Not. Wait.
I am so ready to be home for a little while, be with my family, see my friends that aren't down here in College Station, and actually have a chance to enjoy my favorite time of year—Christmas time!
But I have so much to do between now and Wednesday. Like, um, pack. For a month. And get everything clean. Because I'm a little neurotic when I leave my apartment, even for a weekend. I totally hate coming back to a dirty apartment. It takes what was a relaxing trip away, and makes it instantly non-relaxing (because the first thing I see is all of the things I need to do now that I'm back) OR it takes a trip that was really hectic and busy and extends the hectic busy-ness into my return because as soon as I walk in the door, I have more things to do.
If that makes sense.
So yeah, things are going to start getting [even more] busy for me. But that's okay. I embrace it.
Until I go crazy and pull out my hair.
Or bomb a final.
Eep.
Wish me luck!